Google today announced a slew of updates to Google Maps, including more AI, AR, and visual features. The most headline-grabbing of these updates is arguably the fact that it has extended its Live View AR navigation feature for indoor use. This should unlock new use cases such as wayfinding in malls and airports.
Let's take these new feature updates one at a time…
Live View Goes Indoors
As noted, Google is bringing its visual navigation feature, Live View, indoors. As we've examined in the past, Live View lets users navigate urban areas by holding up their phone and following 3D walking directions to a specified waypoint. This functionality is now available in a number of malls in select cities.
In its outdoor version, Live View uses Street View image database so that a given device can "localize" itself and know what it's looking at. This is the secret sauce that makes the navigational overlays show up in the right places. In the new indoor version, it will similarly use imagery and spatial maps of these locations.
"Thanks to new advancements that help us understand the precise altitude and placement of objects inside a building, we're now able to bring Live View to some of the trickiest-to-navigate places indoors: airports, transit stations and malls," Google wrote in a blog post that accompanied the new rollout.
Use cases will develop around this functionality, including finding individual stores or even products. The latter will involve additional data sets such as store inventory. But like the above moving parts that make Live View possible, Google has that inventory data through GMB and other emerging efforts like Pointy.
Meanwhile, indoor Live View is live today on Android and iOS in select malls in select cities, as noted. Those include Chicago, Long Island, Los Angeles, Newark, San Francisco, San Jose, and Seattle. That will be followed by malls and transit stations in the coming months in Tokyo and Zurich and other global destinations.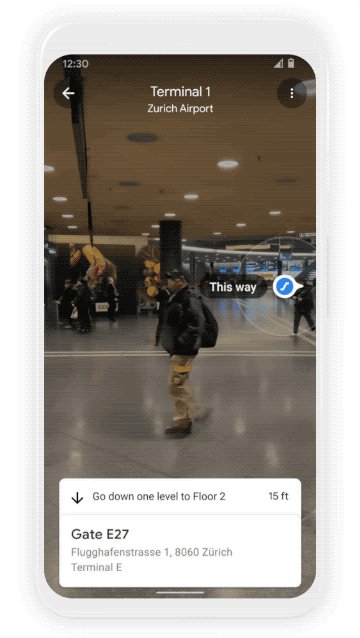 Curbside Pickup
Given the rise of curbside pickup and order-ahead local commerce, it makes sense that Google is now integrating the functionality more directly into Maps. Specifically, the app will display shopping info and curbside-pickup availability with a given store's GMB profile on Maps and Search.
Another point of integration will happen through sharing a pickup order from a store's app to Google Maps. With that integration, shoppers can navigate to a store and have all their curbside pickup info (order details, timing, etc.) without leaving Google Maps. It will even suggest when you should leave your house.
On the store-end, participating retailers will also get this data feed. They'll know where you are and your estimated ETA, so that they can optimize and expedite their order system. This will also let them know that you're nearby, and can bring out your groceries without you having to tell them you've arrived.
This will happen first with Fred Meyer supermarkets in a pilot program in Portland Oregon.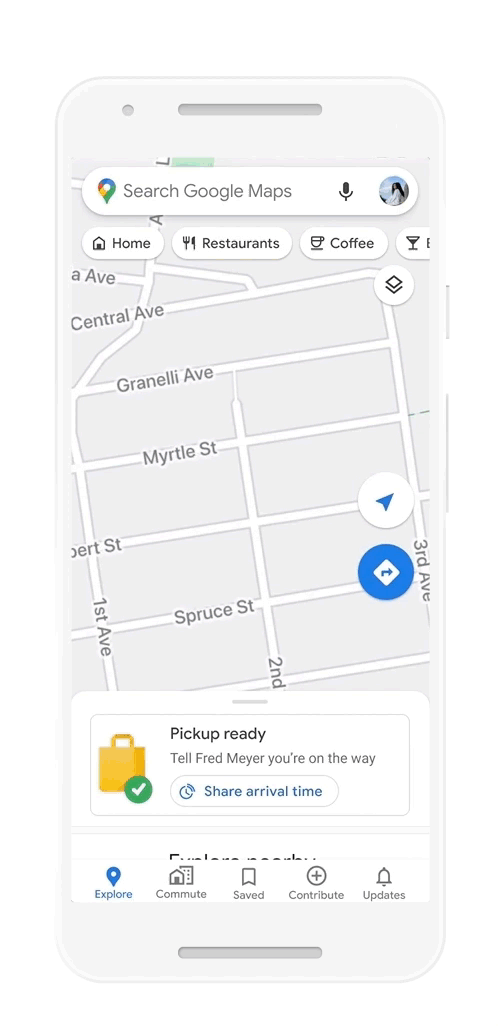 Weather Layers
Google is integrating weather data deeper into Maps to help users plan their travel accordingly. With its new weather layer, users can see current and forecasted temperatures in whatever area they're viewing in the app. This includes an air quality layer that indexes allergy, smog, and fire conditions.
Data partners include The Weather Company and AirNow.gov.and the Central Pollution Board. These weather "layers" will start to roll out on Android and iOS in the coming months according to Google. The weather layer will be available globally while the air quality layer will start in Australia, India, and the U.S.
Eco Routing
Google Maps will also start rolling out a new routing model that optimizes for fuel consumption. This model will be based on factors like road incline and current traffic conditions. As the feature goes live, it will start to default to the route with the lowest carbon footprint, if it has approximately the same ETA as the fastest route.
Google will also pair this with a feature that indicates low-emission zones in countries where they apply. And it will begin to more intelligently send users to the mode of transportation that applies to their situation (think: driving, walking, biking, public transit). This will be based on geographic and behavioral factors.
Google will do some of the above by using data from the U.S. Department of Energy's National Renewable Energy Lab. These features will launch in the U.S. on Android and iOS later this year, says Google, with global expansion to follow.